Childhood Emotional Neglect (CEN) isn't something I want anyone to experience. However, if you have experienced CEN there are ways your experience and recovery can serve you well in a crisis.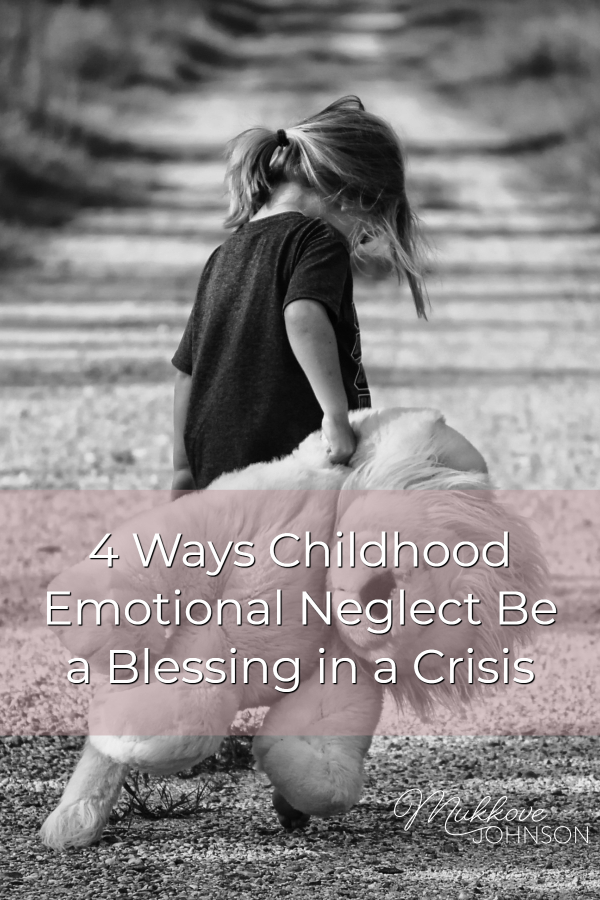 1. You know how to ignore your emotions
In times of crisis, this can serve you well. I'm not saying to go back to ignoring your emotions altogether. Don't shut down and stuff your emotions. Give yourself time to feel and process.
Knowing how to ignore your emotions can make it easier to tune out the panic and paranoia that can thrive in a crisis. Evaluate your emotions and choose which ones are helpful and which are not.
2. You know how to see other's needs
You grew up anticipating the needs of others and ignoring your own. While you don't want to back to ignoring your needs you do have a unique ability to see how you can best serve the people in your life affected by this crisis. Remember you are important and include your needs in the planning, too.
3. Emotional awareness will help you make decisions
Being able to name your emotions is a powerful first step to managing them. Build your emotional vocabulary. Slow down to identify what you are feeling. Ask your emotions what they are trying to tell you.
Learning to listen to what your emotions are telling you is empowering. Are you feeling anxiety? Why? I'm not being glib, I'm serious. Do you have a family member at risk? Is your job in question? Is it general anxiety not tied to anything in particular? Your answers matter. This is how your emotions give you information to make good decisions.
If you have a family member at risk the anxiety can help you take action but identifying what causes the most anxiety. If it is general anxiety because everyone else is stressed you could decide to let it go and partner with peace instead.
4. You can connect in meaningful ways
Because you have learned to ask questions to take conversations below the surface you can help others process what they are feeling and the issues facing them.
You can talk about the bizarre toilet paper shortage. Then you can ask what is most troubling for them? How are they being impacted? Are there things they are worried about? You can help name emotions others are experiencing.
Use your experience with CEN to be a blessing
No one wants to experience CEN. I'm forever grateful I serve a God who loves to bring beauty from ashes. He can and will turn everything in our life to our good and His glory when we are submitted to His purposes. (Romans 8:28)
If you want guidance and support recovering from CEN schedule a Connection Call today