When the lockdown started and I heard about the stores running out of toilet paper and food my first thought was, "It's been less than a year-and-a-half since we had the largest earthquake in recent Alaska history, why aren't people more prepared?"
It's time to prepare
I felt the Lord speaking to me that this was a season to prepare. I have always and peace about COVID-19 not being the destructive pandemic they were painting it to be. This is just a trial run kind of like birth pains. Not the real birth pains – just hints of what's coming. I'm not saying that to be gloom and doom and the world's going to hell in a handbasket. I don't believe that at all.
We have a good God who is sovereign and in whom we are more than conquerors. That is the biblical truth. To walk fully in that truth, we need to prepare.
Preparing for What?
A little over four years ago the Lord impressed me to stop drinking coffee and start taking vitamins. It seemed a little odd, but I was trying to improve my health and I'm always trying to follow the Lord's instructions.
Those instructions made sense when a month or two later I discovered I was pregnant. I wasn't planning to be pregnant. It was not on my agenda but the Lord was preparing me anyway.
It is great news that when we're listening to Him we don't have to know what we're preparing for to be prepared.
Expectations
Once I got over the shock of being pregnant at 42, with three teenagers, I started thinking about how things would be. My expectations of when this new blessing arrived. I expected her to sleep in our room for about 8 weeks. Then she would be sleeping through the night and be able to be transitioned to her sister's room. I would have my nights and my bedroom back.
She's 3 and 1/2 and she's still in our room.
The reason I share that is I feel the Lord is calling me to prepare Daughters, Pioneers, Warriors, and Midwives. I must hold very loosely my expectations of how that will look – like my expectations of my daughter being out of my room over 3 years ago. I don't know what it's going to look like to raise up these women.
I know He's calling me to prepare. I know He's calling me to call you to prepare.
Daughters, Pioneers, Warriors, and Midwives
Daughters
Daughters is the place of healing and establishing your identity in the Lord. Your worth, your purpose, your value, your identity – everything comes from, and because of being His Daughter. To fully walk in that often requires emotional healing.
We have those places that we know in our head something is true but in our emotions, in our soul, it just won't stick. It just won't hold. Those places require healing and that's the place the Lord is having me start with myself and the ladies I serve.
Pioneers
In Dutch Sheets' book, The Way Back, he talks about pioneers and it really resonated with me. In America, Pioneers each set off to do their own thing. They make their own way. Some were literally blazing a trail for the very first time the whole entire way. Others were following someone else's trail and then blazing a new trail part of the way. Some of them were going the same place but they're doing different things. One is going to be a blacksmith. One is going to be a Dairy Farmer. One is going to be a doctor.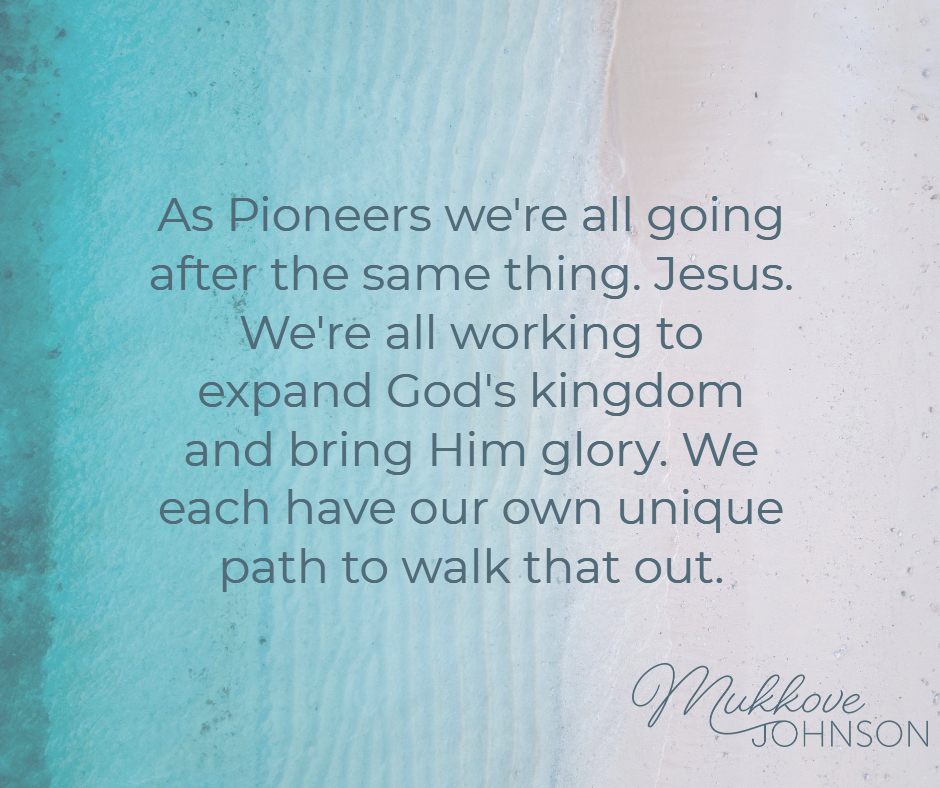 In the Kingdom, it's the same. We're all going after the same thing. Jesus. We're all working to expand God's kingdom and bring Him glory. We each have our own unique path to walk that out. My passion as a mom, friend, and coach is to see the unique way God is calling you. To come near and support you as a pioneer rather than saying, "You have this gift and this gift so this is what you're supposed to be and this is how you're supposed to do it." God is far more creative than that.
Warriors
Being a spiritual Warrior is vital. In women, I see it like that "Mama Bear" instinct. When we know our authority, when we know what's ours – we're committed to protecting it. As we become healed and wholehearted as Daughter's then the Warrior can rise up to defend others that are still figuring out their identity or that are vulnerable and can't fight for themselves.
Warriors in God's kingdom are advancing. They are warring from a place of rest and peace.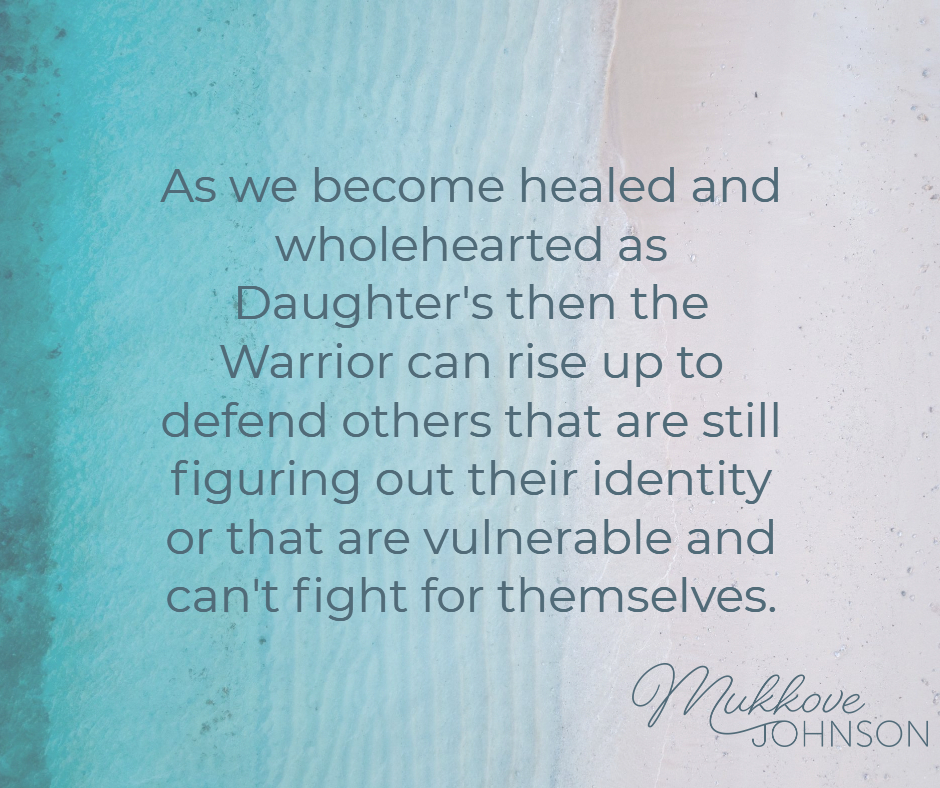 The battle is the Lord's and the Victory is His. We're joining Him to do our part to bring Heaven to Earth.
Our world needs more women who know how to be spiritual Warriors.
Midwives
As I've been pursuing the Lord and what He's preparing me for, what He has made me to be, I feel like He is saying I'm a Spiritual Midwife.
In the natural, midwives help us not only in the delivery of a baby but midwives are there in the preparation process too. They are making sure that our body is healthy and the baby is healthy as it's growing in that gestation. Gestation isn't just waiting. It's preparing. If you have a great connection with your Midwife, pregnancy is often a time of spiritual preparation as well as physical and practical preparations.
My last pregnancy was a time of spiritual preparation because the pregnancy before that – which has been 13 years before that – ended in a miscarriage. There was a lot of spiritual processing and healing going on to carry a healthy baby to term and not be tormented by fear for the whole pregnancy. Not to mention all the issues around why God decided I needed a baby now!
Being pregnant can bring up a whole host of issues. It's the same when God conceived something in you. Stuff will come up to try and stop you, to cause a miscarriage. Issues with your family, maybe in your marriage, issues with yourself like – Am I going to be good enough? Can I really do this? Am I going to be able to avoid the mistakes I've made in the past?
Having a good connection with your Midwife makes her a place to help process and hold those things as you process them as you're growing this baby that God wants to birth through you.
Your Midwife is there for the birthing process, for that transition time when you kind of lose focus and can lose hope. The Midwife is there to say, "This means you're almost there", "You can do this!", and reminds you "You're made for this."
After the birth, a Midwife makes sure you know what to do with your baby and how to take care of yourself while you're taking care of this baby.
This is what I do, preparing, supporting the birthing, and aftercare for the unique things God wants to birth through you. They may already be conceived but you don't know how to move forward. You may have moved forward and hit transition and you're ready to quit but God says keep pushing. Maybe you birthed something and are at a loss for how to care for it or care for yourself. I love to remind women of the strength God has given them, how He has designed them. You were made for this. As they grow and heal, there will be those who will choose to be Midwives for others. I want to be able to raise them up and support them as God is birthing that through them.
Glory to Glory
None of these are stages that we arrive at and we never go there again. We are continually in more than one of these and possibly in all of these stages. There can be one area where you have worked and matured and grown and you are at the Warrior Stage or the Midwife stage while in another area that you're still in the Daughter stage. You're still struggling to believe and walk out the truth that you know in your head. That's normal and that's okay. We're all being transformed from glory to glory so it's not like because you're still struggling to learn something as a Daughter or as a Pioneer that you can't be a Midwife for someone in another area. It also doesn't mean that if you are the point of maturity to be a Midwife in one area that you are not still struggling and still growing in another area.
We take each stage with us. As Pioneers, Warriors, and Midwives we will always be Daughters.
I don't how this is all going to look in the future or the details of God's big vision for this. I can prepare because He does and He will tell me what I need to be doing to prepare even if I don't know exactly what I'm preparing for.
How are you preparing?
Currently Available
Women Becoming in Jesus Mentoring Community
This free Facebook group is a place to slow down and let God go deep. A place to learn to connect with Him by learning how He uniquely communicates with you. There is support for working on anything in any of these areas as you're growing as a Daughter, a Pioneer, a Warrior, or a Midwife. It is a safe place to ask questions, to pray for one another, and to learn.
Join us! Invite your friends!
Mess to Majesty: 90-Days of Transformation and Healing
My group coaching program to learn better how God uniquely communicates with you, to let God love in you in your mess and be transformed in a relationship with Him. Between coaching, teaching, and group support it is life-changing.
Visit Mess to Majesty to learn more or apply to join the waiting list. There will be a new group starting in October, sooner if I have enough ladies.
One-on-one coaching provides the highest level of support. I love one on one coaching. I love to listen to women's stories and be able to pull out what I see God is doing and what He has done. I also can often see what the enemy has been doing. Once he's been found out we can run him off!
You can schedule a call for one-on-one coaching. The first call was 45 minutes to an hour and it's always free. It is not a sales call. I will listen to your story. I will answer your questions. If it seems that we are a good fit and that one-on-one coaching is what you need then we can schedule the time to talk about the logistics and finances of that and what that could look like. I currently have room for 2 one-on-one clients.
It is my passion to raise up Daughters, Pioneers, Warriors, and Midwives.