One morning when I had my quiet time, I recognized that I was feeling selfish.
I was getting ready to leave for coaching training in Florida. Leaving Alaska in winter for some Florida sunshine sounds so appealing. I'm excited for the training to improve my coaching and follow where I feel like God is leading me to go with my coaching.
I felt very clearly that God told me I was supposed to go to this training. It is stretching because one of my first thoughts was, "I don't belong there. I don't know that You've called the right person to do these big things. I'm not like them." Part of why I am going is to overcome these fears and break out of the mold of how I see myself. I must be able to see myself as God sees me.
If I am obeying why did I feel selfish?
But this morning I was feeling selfish. I booked my tickets so I would be at my best for the training. I have a day of downtime before and after. I was feeling selfish because it means somebody needs to get me to the airport in the middle of the afternoon, which is usually my husband. That means more time off work. I thought about getting home late Saturday night and needing to serve at church in the morning or deciding if I pass off my responsibility and then I feel more selfish.
Spending the time and money to go, needing help with my toddler, leaving my family, planning how to use my free time in Florida, was all feeling selfish.
Recognizing I'm feeling selfish doesn't necessarily mean I am being selfish.
In the past, I would have told myself to dismiss that emotion and ignore it. After all, it's not accurate, right?
I'm learning that's not what we need to do. In a way, emotions are always accurate. They always have a message for us.
In this situation, what is feeling selfish telling me? In this case, it was telling me I had old thought patterns feeding that feeling. It was the childhood emotional neglect showing up.
Instead of dismissing the emotion because it's not reflecting God's truth see what message emotion has and what do I need to do with it.
For me, there was the message "you are selfish when you make yourself a priority." A message like that can come from a wound or from emotional neglect. Explore the lies that come out of that core belief. "I need to be sure everything is good for everyone else rather than making sure that it works for me. I'm not important enough to invest in like this."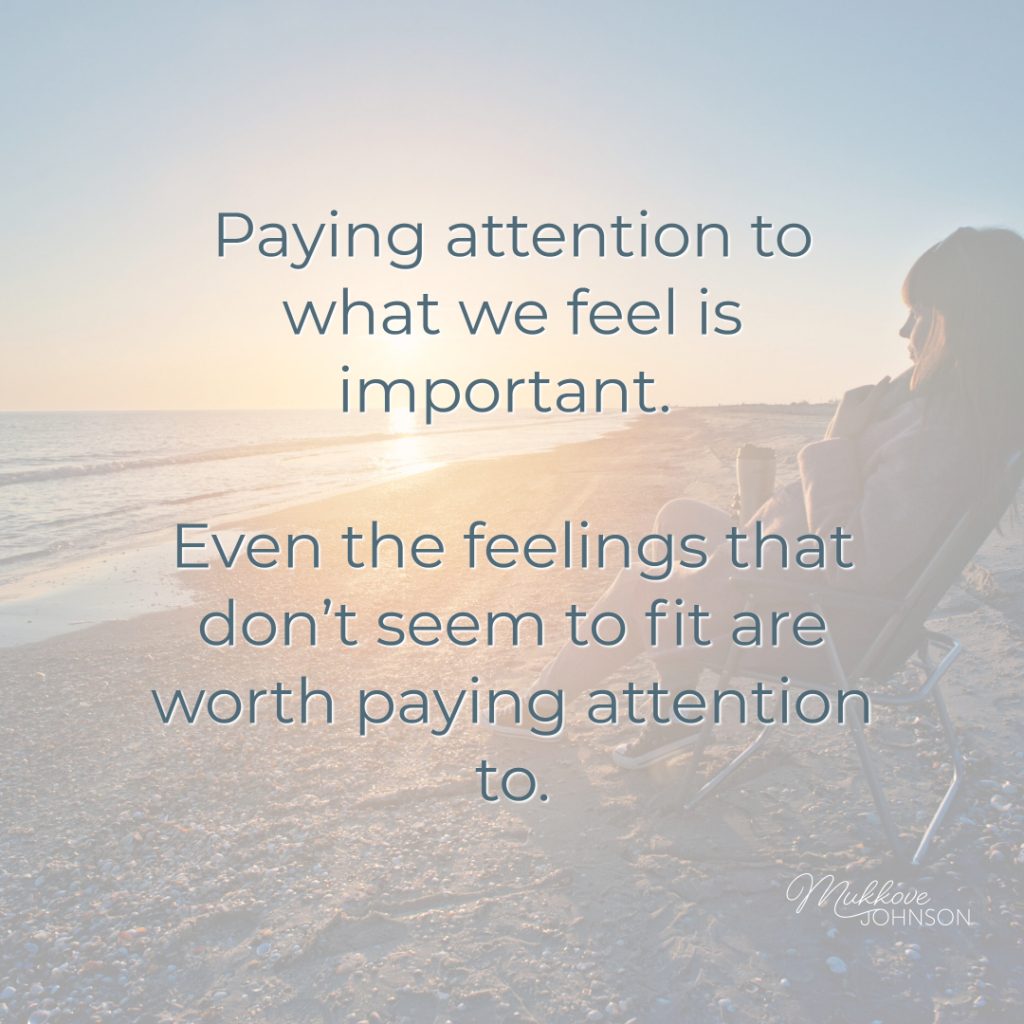 I had the confidence of knowing God wanted me to go to contrast with the feelings of selfishness that morning. It helped me recognize the feeling of selfishness didn't fit. Then I could determine what to with it. Since God told me to go to work on how I see myself the lies highlight things for me to work on. If I am investing in going it makes sense to get the most out of it.
Paying attention to what we feel is important. Even the feelings that don't seem to fit are worth paying attention to.